Residential HDtv Service

Are you tired of the Cable bill going up again and again?
Do you know you can get FREE High Definition TV channels if you have the right equipment?
Do you know you can cut your phone bill to just a few dollars a month if you have internet?
The Technology Professionals On Call can bring a certified consultant into your home to provide you with a report of the channels you can get and a list of required equipment needed to drop cable or satellite TV service. We will also teach you how to consolidate everything into a more cost effective arrangement the same way the phone company did years ago! We willl show you how, with the right technology, you can watch all your favorite shows when you want and only pay a fraction of the price you pay now!

Old style TV antenna with Rotor
This style TV antenna is no longer needed for most people. Yes they are still available for people in fringe areas and for those who wish to get every possible channel physically possible. Since TV is now being broadcase in digital format and mostly carried in UHF channels a new design and much smaller antenna can recieve free digital programming.
New Smaller Antennas can be used to get FREE HDtv!
These new antennas are able to pick up every channel if you live on a hill. There are even antennas that look like a flat white saucer less than a yard in diameter which can pick up channels from all directions. These can easily be installed on a roof to pick up in excess of 30 FREE TV channels.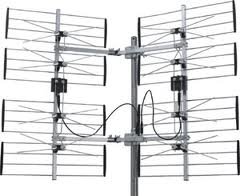 UHF panel antennas can be used to pick up only the upper channels or combined with a VHF antenna to pick up all stations available for free.
These flat panel antennas can be aimed in different directions to pick up signals from multiple locations or they can be kept in a line to double the signals it picks up.
Every location can be analyzed to show exactly what channels are available and what kind of antenna is needed to pick up the FREE HDtv stations.
Residential In Home HDtv consultation - $60
(HDtv Service consultation includes a printed report analyzing what stations are available with each type of antenna. We will also bring a flat panel antenna or demonstration antenna to show you the picture quality available for FREE. If you have internet service in your home we will also bring a ROKU box to demonstrate how you can stream Movies, and TV shows for less than 30 cents a day or even free depending on what you want to watch. We can also show you how a simple box can replace your phone company. Consultation is limited to one hour but can be extended for an additional cost. If you are interested we can provide a written estimate for all necessary equipment and labor to install your antenna and TV equipment.)